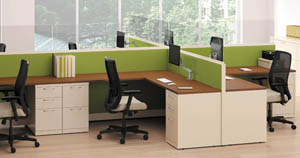 HON Accelerate Workstations
Product Description:
ACCELERATE YOUR SPEED OF BUSINESS
MAXIMIZE YOUR FREEDOM
Todays fast-paced companies have to ready for anything. Accelerate is designed to adapt and grow at the speed of business. The thin profile and clean likes offer a range of aesthetic options to maximize design freedom. The versatile selection works great alone or even better when combined with other HON products to maximize planning freedom. Accelerate your speed of business, and be ready for anything.
OPTIMIZE YOUR SPACE
Accelerate offers 72" panels, making it possible to configure a workstation with only two panels and minimal number of components.
Voi® work surface and O-Leg supports complement Accelerate panels to create a contemporary, open environment.
Tackable Panel L-Shape Typical
New MSRP: $5,011
Our Price: $3,006
For more information please call Pam Behnke.
Pam: PBehnke@OfficeLiquidators.com 303-951-0707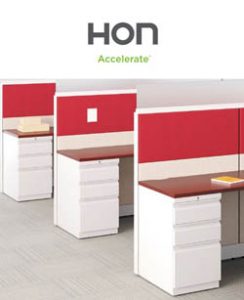 Hours Mon - Fri: 8:30 - 5:30 Saturday: 10:00 - 5:00 Closed on Sundays Contact 11111 W. 6th Ave Denver, CO 80215 (303) 759-3375 (800) 279-3375 info@officeliquidators.com
New Brands We Carry Allseating Arcadia basyx by HON Cabot Wrenn Dauphin David Edward DMI Friant Furniture Gunlocke HAG Highmark HBF
HON Jack Cartwright Humanscale Keilhauer La-Z-Boy Leowenstein MAD Seating Mayline Group National Nucraft OFS RFM Preferred Seating SitOnIt Seating
Used Brands We Normally Carry Allsteel Haworth Herman Miller KI Kimball Office Knoll Paoli Patrician Steelcase Teknion Thonet Tuohy