HON Abound Workstations
Product Description:
Greater flexibility. Higher quality. Smarter technology. Abound offers all that and more to deliver high-performance workspaces. Every component is designed with the other in mind. Even the electrical and data cabling was designed to offer greater capacity, faster installation and easier reconfiguration. By setting a higher standard today, Abound makes it easy to be ready for tomorrow.
72″ x 72″ L-Shape Workstation Typical
New MSRP: $9,178
Our Price: $5,506
For more information please call Pam Behnke
Pam: PBehnke@OfficeLiquidators.com 303-951-0707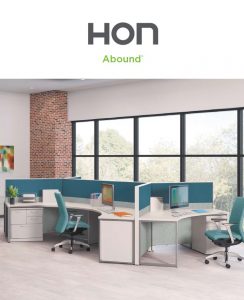 Hours
Mon - Fri: 8:30 - 5:30
Saturday: 10:00 - 5:00
Closed on Sundays
Contact
11111 W. 6th Ave
Denver, CO 80215
(303) 759-3375
(800) 279-3375
jjohnson@officeliquidators.com
New Brands We Carry
Allseating
Arcadia
basyx by HON
Cabot Wrenn
Dauphin
David Edward
DMI
Friant Furniture
Gunlocke
HAG
Highmark
HBF
HON
Jack Cartwright
Humanscale
Keilhauer
La-Z-Boy
Leowenstein
MAD Seating
Mayline Group
National
Nucraft
OFS
RFM Preferred Seating
SitOnIt Seating

Used Brands We Normally Carry
Allsteel
Haworth
Herman Miller
KI
Kimball Office
Knoll
Paoli
Patrician
Steelcase
Teknion
Thonet
Tuohy